A dining set, consisting of a table and chairs, is more than just a table and chairs placed in the middle of the room. It's the hub of social life, where loved ones get together to break bread and share stories. Comfortable dining chairs and a stylish table are essential for any home that values good food and company. A dining set, whether for an intimate family meal or a raucous party, can unite people and foster memories that will last a lifetime. A finely made dining table with chairs is, thus, an ideal piece of furniture for any home, whether you plan on hosting formal dinner parties or prefer more casual family meals.
Choosing the perfect dining table with chairs for your home can be a daunting task, especially with so many options available in the market. There are various factors to consider including the size, material, design, and of course, your personal taste and style. Whether you're looking for a formal or a casual look, it's important to find a set that not only looks great but also provides maximum comfort and functionality for your family and guests. Make sure to measure your space, take note of your lifestyle, and think about your future plans as well. With a little research and patience, you'll find the perfect dining table with chairs that will enhance the beauty and functionality of your home for years to come.
The dinning table is more than just a piece of furniture where meals are shared. It is a space where families come together to connect, communicate, and create memories. Dining together at a table encourages deeper conversations and allows family members to share their day-to-day experiences, discuss their challenges or simply enjoy some quality time together. Apart from serving its basic function of providing a place to eat, the dining table provides an ideal environment for learning manners and social skills for children. It is a place where traditions are born, cultural values are passed down, and family relationships are strengthened. Thus, having a dinning table is not only crucial for maintaining physical well-being but also for keeping families together.
Bring a touch of modern elegance to your home with this beautiful white and black wood dining table. The glossy finish and black stripe in the middle create a stunning and classic look that will elevate any dining room or kitchen. This product comes with 6 stylish chairs, ensuring that there is plenty of seating for family dinners or hosting guests. The table and chairs are also designed with practicality in mind, with all chairs meeting fire resistance standards and the product being flat packed for easy home assembly. With a size of 140 x 80 x 75cm (LxWxH) for the table and 42cm x 52cm x H96cm (WxDxH) for the chairs, this is the perfect choice for those who want both style and comfort.
Gorgeous white and black hardwood table with six stylish grey PU leather chairs.
High UV paint makes the core black stripe stand out.
Foam and PU grey faux leather seats made in the UK that are fireproof
140 (L) x 80 (W) x 75 (H) centimetres
The width (42cm), depth (52cm), and height (96cm) of one chair.
Upgrade your dining experience with the MCC Direct Solid Wooden Dining Table and 4 Chairs Set in Grey. The classic design exudes a cozy and inviting feel, perfect for family meals or intimate gatherings with friends. Crafted from solid wood, this durable set can withstand daily use and won't break the bank. The neutral color palette is easy to match with any decor style, while the two-tone finish adds character and warmth to your space. And with a statutory guarantee, you can enjoy this beautiful set worry-free for years to come. Create lasting memories with your loved ones around this stunning dining table.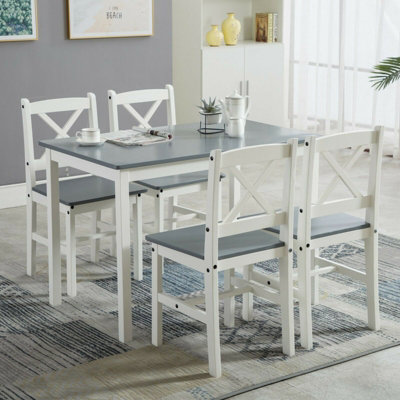 Pure pine wood
Super-smooth and hygienic design
Conveniently pre-packaged in flat form
Dimensions of the table are 108x64x73 cm.
Introducing the Home Source Aspen Iron Dining Table and Chairs Set in Oak Effect – the perfect addition to your dining space. This set includes a beautifully crafted table complete with rustic corner brackets and four sleek chairs with curved metal slat style backs for both style and comfort. Not only does the set boast an industrial feel, it also features a moisture-resistant protective melamine coat that enhances its durability. Crafted using top-notch materials such as MDF and high quality laminate with melamine finish and powder coated steel, this five-piece set also makes for a wonderful addition to game rooms, craft rooms or even office spaces. With a variety of finishes such as Dark Walnut and Rustic Oak to choose from and easy shipping of everything in one convenient box, this set truly has it all.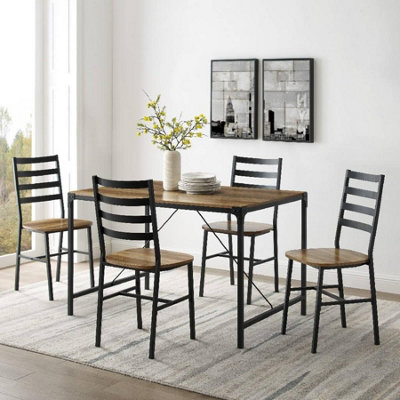 Width = 82cm Depth = 122cm Height = 77cm
Chair Dimensions (W x D x H): 41 x 44 x 91
Available in Rich Walnut and Weathered Oak Finishes
Relaxed Attitude Seating Requires Some Assembly
Upgrade your dining room with this contemporary Grey Dining Table and 6 Grey Velvet Chairs Kitchen Dining Set. The sleek and fashionable design of this dining set will add a touch of elegance to your space, making it a perfect fit for both commercial and domestic use. Crafted with clear tempered toughened glass, this table is both robust and chic. The set includes six comfortable grey velvet chairs, making it suitable for intimate family dinners or gatherings with friends. While assembly is required, the item comes flat packed and is easy to put together. With a table size of 134cm x 70cm x 75cm and chair dimensions of 44cm x 59cm x 81cm, this dining set is sure to create a comfortable and stylish dining experience.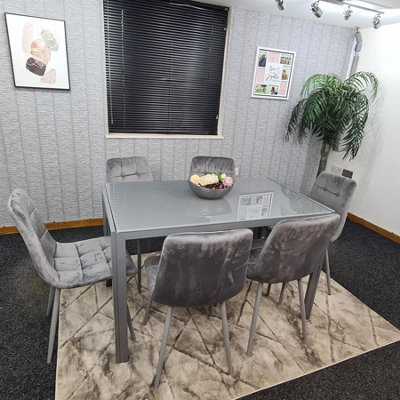 Enjoy your meals with your loved ones more now that you've upgraded to this modern and chic dining set.
Luxurious velvet upholstery with thick padding for comfort.
Dimensions of the table are 134x70x75cm.
The overall measurements of the chair are 44x59x81cm.
Useful in a variety of settings, including homes, restaurants, cafes, and more.
All of their chairs are available in a flat pack format and require some home assembly before use. prompt shipping to the whole of the UK
Looking for the best dining room table and chairs? B&Q is your one-stop shop. They offer dining room collections in a wide variety of designs, sizes, and materials to complement any interior design scheme. B&Q sells a variety of tables in various shapes and sizes, including the more traditional square and round shapes as well as the more contemporary rectangular shape. And don't overlook the seating – They're soft and fashionable, with a wide range of options to suit any dining room. You can be confident that a dining table set from B&Q is a long-lasting investment in quality. Why hold off? Get the best dining room furniture for your home right now by shopping at your local B&Q.