Some pieces of bedroom furnishings are often forgotten about when decorating a bedroom. One such thing is the bedside stand. The addition of a high-quality nightstand table, however, can do wonders for the aesthetics and practicality of your bedroom. Storage for books, glasses, and other small things that tend to accumulate on your nightstand is provided in addition to a place to set your lamp or phone charger. In addition, a stylish nightstand table can serve as the focal point of the room. Don't neglect to think about getting a nice bedside table the next time you redecorate your bedroom.
Having a nice nightstand table can completely transform a bedroom. And B&Q has you covered if you want something that looks great and serves its purpose. A roomy drawer and handy rack provide ample room for all your nighttime necessities at their bedside table. Aside from being a stylish addition to any bedroom, thanks to its neutral white colour and simple design. Bedside tables from B&Q are indispensable, whether you're an avid reader who needs a lamp and books by your side or you just need a spot to charge your phone while you sleep.
Add a touch of retro style to your bedroom with the Leona Matt black rattan effect 1 Drawer Bedside table. This beautiful piece of furniture is sure to make a statement in any living space, with its unique combination of black and rattan effect finish. And the best part? You can pair it with matching pieces to create a cohesive look. With a 1 year guarantee, fittings and fixings included, and easy cleaning instructions, this stylish bedside table is both functional and fashionable. Not only that, but it's also partially assembled, so you can get it up and running in no time. So why wait? Elevate your bedroom decor today with the Leona Matt black rattan effect 1 Drawer Bedside table.
Transform your bedroom into a sanctuary of elegance and luxury with the GFW Lancaster 2 Drawer Bedside Grey. With its shaker-inspired design, brushed steel handles and oak tops, this bedside table is the perfect blend of contemporary and classic styles. The soft grey or cream foiled finish adds a touch of sophistication to any room, while its two drawers provide ample storage space for all your bedside essentials. From books to lamps and everything in between, you can store everything you need within easy reach. While assembly is required, fittings and fixings are all included, and you can rest easy knowing that a 1-year guarantee and tipover restraint device are also included. Create a bedroom that exudes understated elegance with the GFW Lancaster 2 Drawer Bedside Grey.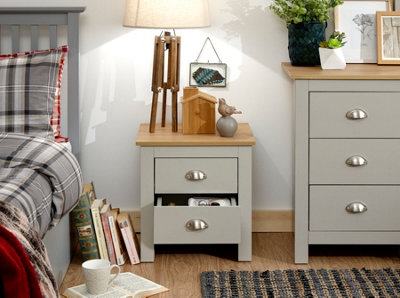 Add a touch of retro charm to your modern bedroom with the GFW Nyborg Single 2 Drawer Bedside Nightshadow. This stylish bedside table features a sleek two-drawer design and mid-century-inspired legs in a lovely pale wood finish. With a range of fashionable colours to choose from, you'll be sure to find one that complements your décor perfectly. Whether you're looking to add some personality to your bedroom or simply need a practical storage solution, this bedside table has got you covered. Assembly is required but fittings and fixings are included, and with a tipover restraint device also included, you can rest easy knowing your belongings are safe and secure. Plus, with a 1-year guarantee, you can trust that you're getting a quality piece of furniture that will last for years to come.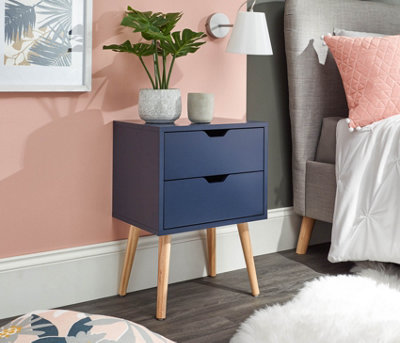 Looking for a modern bedside table that's both stylish and durable? Look no further than the Decortie Elos Modern Bedside Table Right Module White 25cm Narrow. Crafted from high-quality engineered wood and finished with protective melamine, this piece is built to withstand the wear and tear of everyday use. And with its sleek design and easy assembly process, it's a stylish and practical addition to any modern home. Plus, with a 2-year guarantee and exceptional customer support, you can buy with confidence knowing you're getting a quality product that's backed by a reliable brand. So why wait? Upgrade your space today with the Decortie Elos Modern Bedside Table!
Upgrade your bedroom decor with the Paris Matt 2 Drawer Bedside table. The romantic grey hue, combined with brass detailing, adds a touch of vintage charm to this modern piece of furniture. The metal drawer runners and handles give it a sturdy construction while the new grey matt finish adds a contemporary touch to the overall design. What's more, it's easy to assemble and can be paired with other items from the Paris range, such as the chest of drawers and wardrobe, to create a cohesive aesthetic. This bedside table is a must-have for anyone who wants to infuse their space with elegance and class.
A good night's sleep is crucial for your overall well-being, and a bedside table plays an important role in enhancing your sleeping experience. Not only does it provide a convenient spot for your nightly essentials like a glass of water, books, and reading glasses, but it also enhances the ambiance of your bedroom.
A stylish bedside table can add a touch of elegance and character to your space, while functional ones with built-in storage compartments can help you keep your bedroom neat and organized, giving you a peaceful environment to relax in.
Besides its practical uses, a bedside table can also serve as a decorative element in your bedroom, allowing you to showcase personal items such as family photos, a vase of fresh flowers, or your favorite candle. In short, a bedside table is not just another piece of furniture but a valuable investment that can elevate the comfort and appeal of your sleep sanctuary.