Bershka was created in 1998. Bershka positions itself as a fashion leader catering to an ever-growing audience and, within a span of 2 years, has established its brand identity in 100 stores. Presently, after 18 years, the chain boasts over 1000 establishments across 70 markets, generating sales that account for 9% of the group's total revenue. To ensure the availability of the latest trends at their stores, Bershka employs a flexible business model to adapt to seasonal changes. They promptly respond by introducing new products, leveraging information from their shops and customers to serve as their creative teams' main source of inspiration. The Bershka design team, consisting of over 60 professionals, continuously evaluates consumer needs, desires, and demands, resulting in a diverse offering of over 4,000 products annually. Bershka's audience comprises of daring, young individuals who stay updated on the latest trends and show enthusiasm for music, social networking, and emerging technologies. Bershka's shops are designed with distinct areas dedicated to their diverse product lines. Each section, namely Bershka, BSK & Man, showcases products arranged by their unique style, resulting in a varied range of options from everyday wear to athletic attire, and from essential pieces to trendy fashion items.
Bershka Mid Season Sale Up to 30%
If you're looking to revamp your wardrobe this season, then Bershka's mid-season sale is the perfect opportunity to do so. The Fashion brand has announced discounts of up to 30% on their latest styles, giving you a chance to nab some trendy pieces at a fraction of their original price. Bershka prides itself on staying up-to-date with the latest fashion trends and offers a wide variety of clothing and accessories for men and women. With deals like these, it's time to hit the refresh button on your wardrobe and stock up on some stylish essentials from Bershka's mid-season sale.
1. Denim bomber jacket with contrast thread
The denim bomber jacket with contrast thread by Bershka is a must-have for any fashion-forward individual. Made with 95% cotton and 5% elastane, this jacket is comfortable and stretchy, providing the perfect fit. The outer shell is made with 20% recycled cotton, making it an eco-friendly option for those who want to make a statement while reducing their carbon footprint. The contrast thread adds an edgy touch to the classic denim design, making it a versatile piece that can be dressed up or down for any occasion. Made with 100% cotton lining, this jacket is also breathable and durable, ensuring that it will last for seasons to come. With all of these features combined, the denim bomber jacket with contrast thread by Bershka is a must-own piece that will upgrade any wardrobe.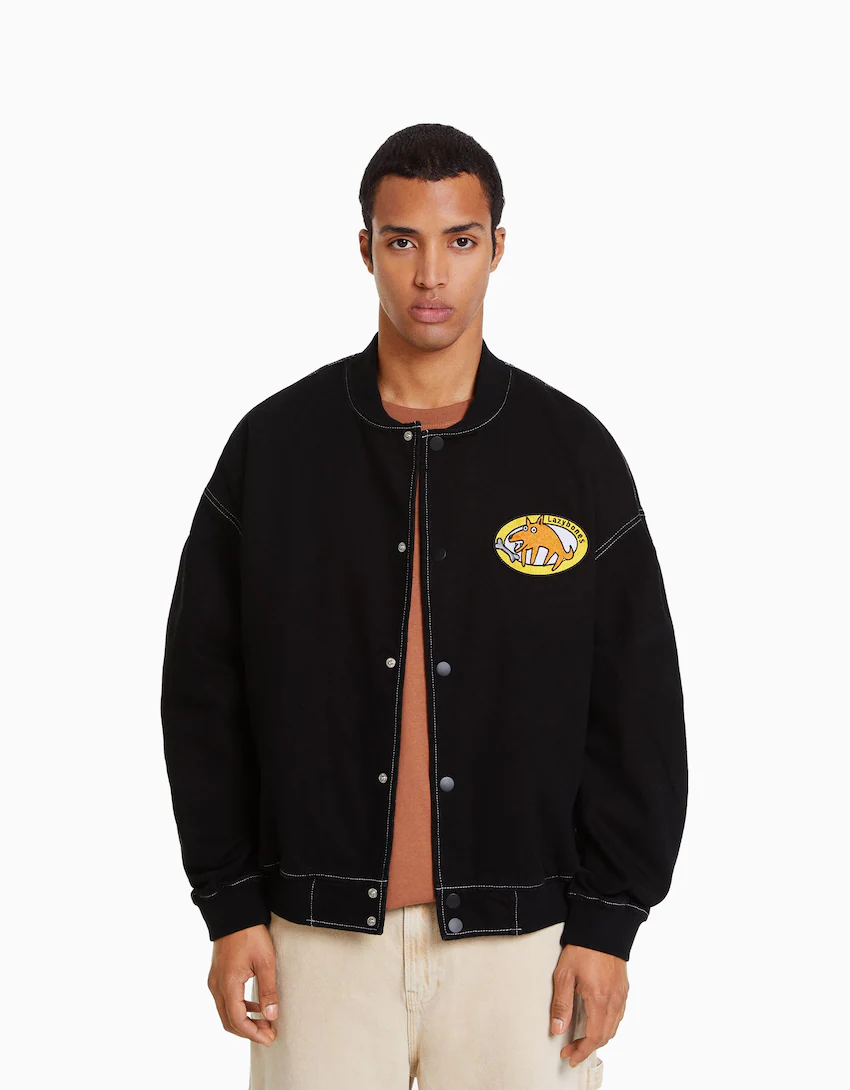 2. Loose fit jeans with rips
Say goodbye to boring, uncomfortable jeans and hello to the ultimate combination of style and comfort with Bershka's loose fit jeans with rips. Made with 100% cotton, you can feel good about your clothing choice while looking effortlessly cool. These jeans not only look great, but their composition includes 20% recycled cotton, contributing to a more sustainable fashion industry. Featuring a relaxed fit and fashionable rips, these jeans are the perfect addition to your wardrobe for any occasion.
3. Baggy jogging cargo jeans
For those who want to stay comfortable and trendy, Bershka's baggy jogging cargo jeans are a must-have. Made from 100% cotton, these jeans are soft and breathable, ensuring that your skin won't feel suffocated. But what makes these jeans even more impressive is that 15% of them are composed of recycled cotton. So not only are you getting a stylish pair of jeans, but you're also doing your part in supporting sustainable fashion. With the cargo pockets and relaxed fit, these jeans are perfect for any casual outing or just lounging around the house. Upgrade your wardrobe with Bershka's baggy jogging cargo jeans.
4. Slim fit ripped denim Bermuda shorts
The Slim fit ripped denim Bermuda shorts from Bershka embody the perfect combination of style and comfort. Made from 100% cotton denim, these shorts are not only incredibly durable but are also light and breathable, making them perfect for the summer season. The Slim fit and ripped detailing add a trendy touch that is sure to make you stand out. Perfect for a casual day out with friends or a summer barbecue with family, these shorts can be dressed up or down depending on your preference. So whether you're headed to the beach or just running errands, these Slim fit ripped denim Bermuda shorts are a must-have in your wardrobe!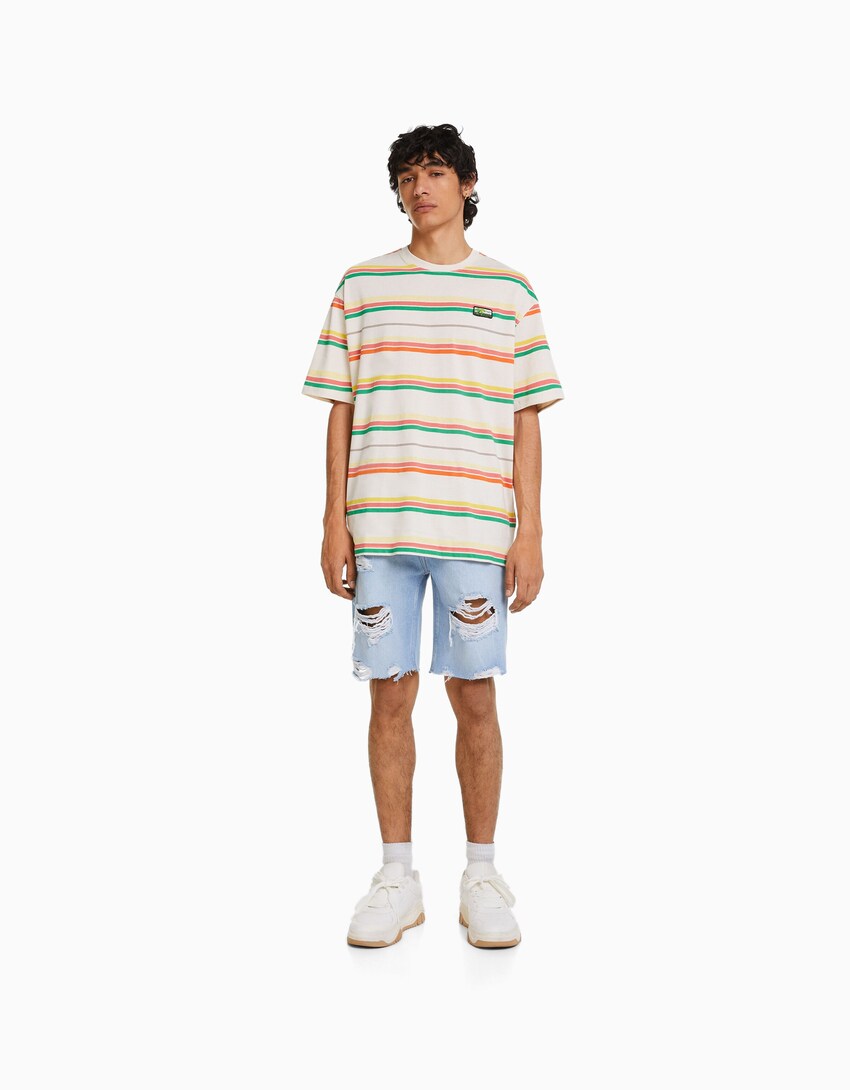 5. Skinny roll up denim Bermuda shorts
Say goodbye to those boring and basic shorts and hello to these trendy skinny roll up denim Bermuda shorts! Made with a unique blend of materials, this composition contains 65% cotton, 28% polyester, 5% viscose, and 2% elastane, resulting in a comfortable and flattering fit. What sets these shorts apart is their skinny style and roll up detailing, perfect for pairing with your favorite crop tops and tank tops. With an outer shell made up of at least 20% of this material blend, these shorts are not only stylish but eco-friendly too. Upgrade your summer wardrobe with these chic and sustainable shorts.
Conclusion
Bershka's 30% Off Mid Season Sale is a golden opportunity to unleash your inner fashionista and transform your wardrobe. With a plethora of stylish options , you can embrace your unique style with confidence.