At number 43 on Paseo de Gracia stands the iconic Casa Batlló, a route that once linked the city to the neighborhood of Villa de Gracia, which is now an integral part of Barcelona. Since 1860, when an ambitious urban plan (known as the Cerdà Plan) was adopted in Barcelona, Paseo de Gracia has become the backbone of the city, and the most significant families in Barcelona have begun to settle here. In this way, the street developed into a promenade for walkers and horse-drawn carriages in the nineteenth century, then a major thoroughfare for automobiles in the twentieth. Originally constructed in 1877, before the advent of electric lighting in Barcelona, by one of Gaud's architecture instructors, Emilio Sala Cortés. Mr. Josep Batlló y Casanovas, a wealthy businessman and owner of various textile mills in Barcelona, bought it in 1903. Mr Josep Batlló gave Antoni Gaud complete rein to do anything he wanted with the project, which had originally called for demolition. The mansion was saved from destruction and completely renovated between 1904 and 1906 due to Gaud's boldness. The architect rearranged the inside walls, enlarged the lightwell, and transformed the space into a masterpiece, all while keeping the outside same. The building has aesthetic value, but it is also highly utilitarian, which is more indicative of the present day than of the past. Some critics even detect precursors to twenty-first-century design tendencies. The Batlló family no longer had a stake in Casa Batlló after the 1950s. The Bernat family, who have owned the building since the 1990s and repaired it extensively, are the latest owners after many businesses and individuals. In 1995, the family decided to share their home with the world by making it available for events and tours. Cultural tours of Casa Batlló have been available since 2002, coinciding with the International Year of Gaud. Both options are currently accessible, with ongoing developments in both supply and content. Today, Casa Batlló is a UNESCO World Heritage site and a Barcelona icon, a destination for those interested in learning more about Gaud's legacy and the zenith of modernist architecture. One million people visit each year, making it one of the most popular cultural and tourism destinations.
Tickets And Discounts Info
You can buy General Visit tickets at the ticket counter, but for Magical Nights and Be the First, online purchase is mandatory. They advise you to make your purchase online to secure the most favorable pricing and your preferred visit time slot. At the ticket counter, prices are €4 higher than online rates, which can vary based on availability and how early you book. They strongly recommend online ticket purchases for the best pricing. For the General Visit at Casa Batlló, children up to 12 years old enjoy free admission. However, for Magic Nights, all attendees pay the same rate, and there are no child, student, senior, or other discounts available. All children aged 0 to 12 years old receive free admission for the General Visit. Visitors with a student discount ticket must present a valid student ID card at the entrance, regardless of their country or academic level. Please note that Casa Batlló is a privately managed institution and does not participate in open-door events. The ticket prices contribute to the upkeep and preservation of this UNESCO World Heritage site.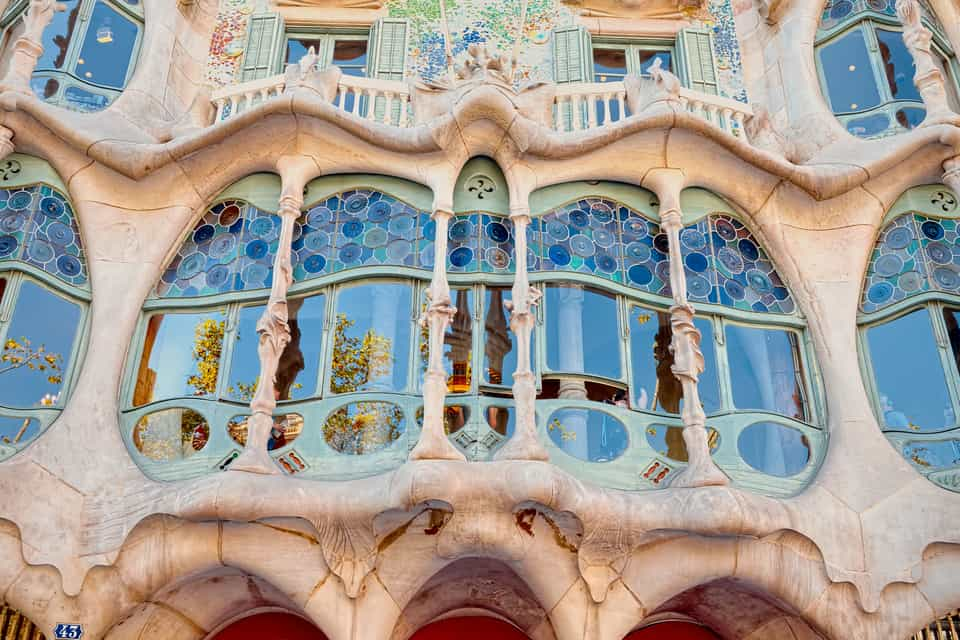 Regarding The Tour
The Blue tour lasts around 1 hour, while the Silver and Gold tours take approximately 1 hour and 15 minutes. General Visit hours are from 9 am to 8 pm, and Casa Batlló is centrally located at Passeig de Gràcia 43 in Barcelona. If you possess a ticket, you can proceed directly to the entrance, but entry before your selected time is not allowed. Starting from your chosen time, you have a 15-minute window to enter at your convenience. It's crucial to adhere to your chosen entry time for a smooth visit. To reschedule your tickets for a different date or time, please get in touch with them. They recommend leaving luggage or backpacks at your accommodation. They only have storage for strollers and wheelchairs. Casa Batlló permits modifications and refunds exclusively for Gold tickets, which include both services. You can change the date of your tickets by emailing them at [email protected]. Please provide your booking reference number along with your preferred date and time for the visit. Please note that you cannot change the ticket type (Blue, Silver, Gold). During your visit to Casa Batlló, you'll have the opportunity to purchase additional extras separately that are not included in your ticket.
What does the General Visit Cover?
Audioguide + Exclusive Soundtrack
Listen to the music of British composer Dani Howard as you explore a house full of hidden tales.
Main floor
Walk into the center of Passeig de Gràcia and relive the glory of Barcelona's early 20th-century architecture.
Rooftop
Unwind in style alongside the renowned roof of Casa Batlló while taking in breathtaking views of Barcelona's city center.
Attic
Gaud excelled at depicting expansive natural settings. Explore the depths of the dragon and see it for yourself.
Stairs and atrium
Kengo Kuma, a renowned Japanese architect, designed a spectacular staircase that leads to the House's basement.
Gaudí Cube
The world's inaugural 360-degree encounter is here. Renowned new media artist Refik Anadol introduces his groundbreaking creation titled 'Exploring Gaudí's Thoughts.'
Tablet + Augmented Reality
Gaud's imaginative world, at your disposal. Dive deep into the natural world that inspired the greatness. All kids under 12 go in free.
Conclusion
Casa Batlló stands as an iconic testament to the brilliance of Antoni Gaudí's architectural vision and the rich history of Barcelona. From its origins in the late 19th century to its present-day status as a UNESCO World Heritage site and a symbol of modernist architecture, Casa Batlló invites visitors from around the world to explore its enchanting spaces and immerse themselves in the captivating legacy of Gaudí. With options for both General Visits and special experiences like Magic Nights, visitors have the opportunity to witness the architectural marvels, including the spectacular rooftop and the unique Gaudí Cube. This cultural gem welcomes all, with free admission for children under 12, offering a glimpse into the heart of Barcelona's artistic and architectural heritage. Each year, millions of visitors embark on this extraordinary journey, making Casa Batlló one of the most cherished and celebrated cultural destinations in the city.