The shoe industry has been swept off its feet by the popularity of Crocs because they are the most deliciously comfy shoes in the world. When it comes to ease of use, they are revolutionary. Because of its dedication to providing superior comfort, Crocs have won the hearts of consumers of all ages and walks of life. Each and every pair of shoes, from the classic clogs to the trendy sandals and sneakers, is created with originality in mind. Additionally, these shoes are very lightweight, supple, and flexible thanks to the cutting-edge materials employed in their construction. So, if you want a pair of shoes that will make you feel good all day long, go no further than Crocs!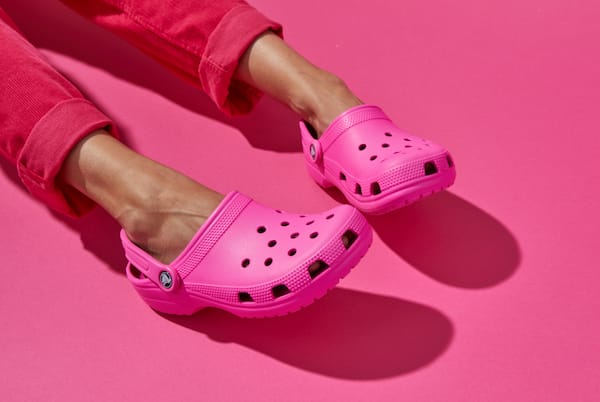 Clogs have become increasingly popular in the workplace due to their comfortable and practical design. They provide excellent support for those who are constantly on their feet, reducing the risk of foot pain or fatigue. With adjustable straps that ensure a snug fit, they also promote safety and stability. Additionally, clogs are easy to slip on and off, making them convenient for those who need to make quick trips in and out of their workplace. Their durability and versatility add to their appeal, making them a wise investment for those in need of reliable footwear. Overall, clogs are a great choice for the workplace, providing comfort, safety, and practicality.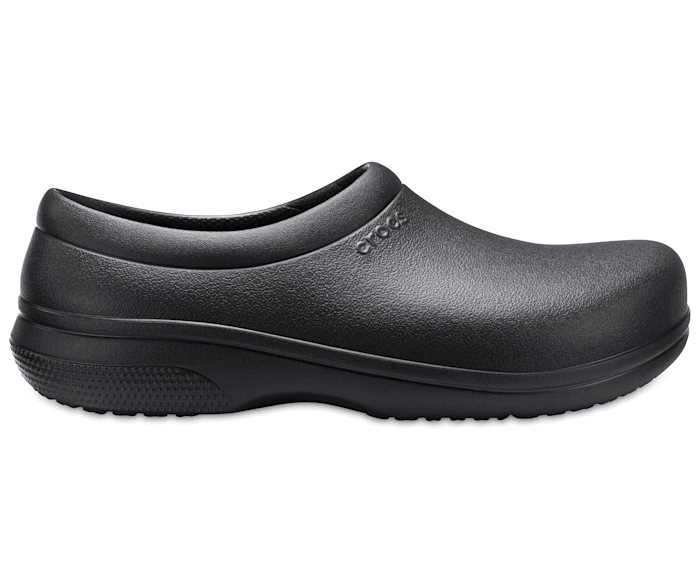 Working in the service industry can be a grueling experience – long hours on your feet, constantly on the move, and never a moment to catch your breath. But what if you could have a pair of work shoes that not only felt comfortable but looked stylish as well? Introducing the Crocs On-The-Clock Work Slip-On. These shoes are specifically designed for those who work in the food service, healthcare, and other service industries. They feature reinforced toes and heels to provide extra durability and support, while their slip-resistant soles help ensure your safety on the job. Plus, they're easy to clean – simply wipe them down with soap and water. So the next time you're working the grind, give your feet the support they deserve with the Crocs On-The-Clock Work Slip-On.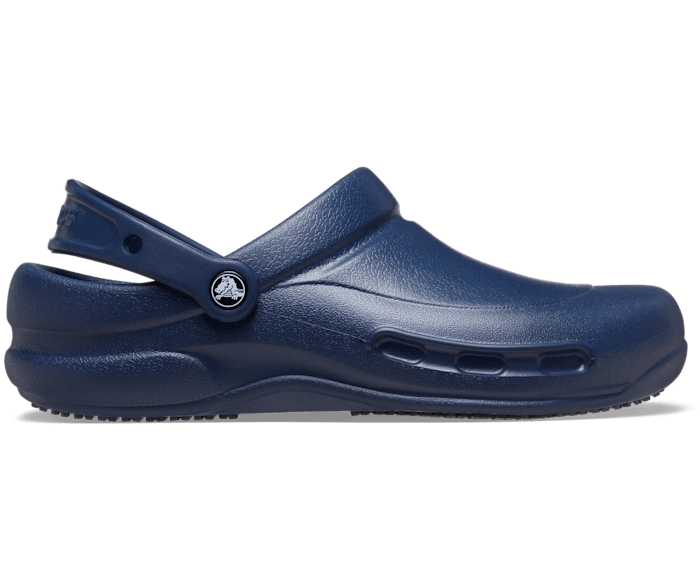 In the fast-paced world of food service, hospitality and healthcare, having the right shoes can make all the difference. Enter the Bistro Clog from Crocs. These clogs were designed with the needs of hard-working professionals in mind, offering a supportive and comfortable option for even the longest shifts. The Crocs Lock™ slip-resistant treads keep you safe on slick surfaces, while extra protection at the toes adds an extra layer of durability. And with a variety of colors to choose from, you can add some fun and personality to your work ensemble. Choose the Bistro Clogs as your culinary inspiration and serve up your best in comfort and style.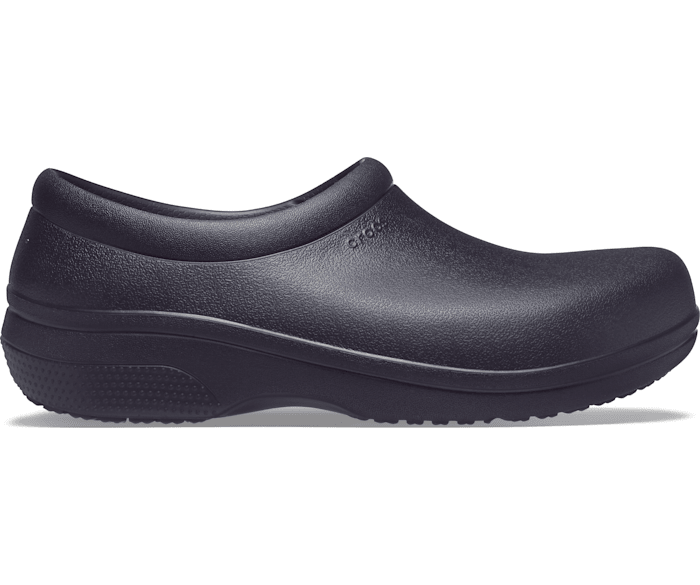 Are you a barista, server, nurse or any other service industry worker who spends long hours on your feet? Then you've probably been searching for the ultimate pair of comfortable, durable and stylish shoes that can handle the daily grind. Look no further than the Crocs On-the-Clock LiteRide™ Slip-On. These reinforced slip-ons are built to withstand the toughest conditions, with removable, washable footbed liners that keep them fresh and odor-free. But what really sets them apart is the LiteRide™ foam footbeds, providing unbeatable cushioning and support for your feet as you work. So why not treat yourself to a pair of Crocs that work as hard as you do?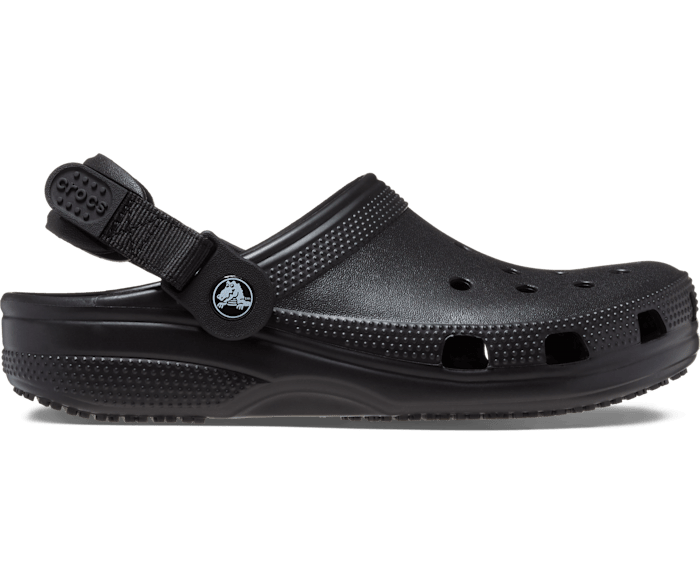 Slip-resistant outsole and one-of-a-kind adjustable heel strap add to the famous clog's comfort and appeal. This multipurpose clog offers superior traction and security for a wide range of situations. The heel strap is adjustable for a snug fit and features textured pull tabs to make putting them on and taking them off a breeze. Equipped with the same Crocs LockTM slip-resistant treads as the Crocs at WorkTM Collection. In addition, the JibbitzTM holes on the top allow for quick customization. The Classic adjustable strap Clog gives you the chance to feel safe, secure, and at ease in your own footwear.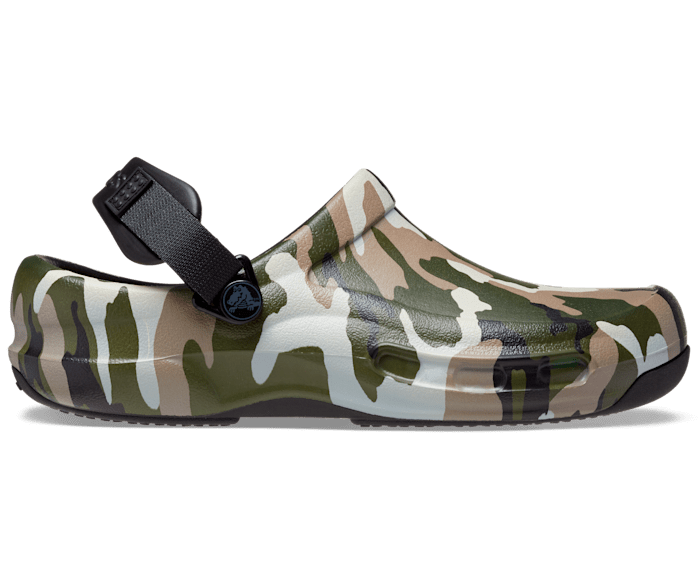 As someone who works in the food service, hospitality, or healthcare industry, you know how important it is to have comfortable and durable footwear. That's why the Bistro Pro LiteRide™ Graphic Clog is the perfect choice for you. With its superb LiteRide™ foam footbeds and fun, graphic designs, these clogs will keep you stylish and comfortable all day long. Plus, the Crocs Lock™ slip-resistant treads and toe protection will help you feel secure on even the slipperiest floors. Choose your favorite design and get ready to serve up your best with these awesome clogs.
Crocs offer a shopping experience that is hard to beat. Not only is the brand known for its iconic and instantly recognizable clogs, but there is also a wide range of options available for men, women, and children, Crocs has it all. What sets Crocs apart isn't just the variety of footwear, but also their commitment to comfort, durability, and style. Their shoes are made with high-quality materials and are designed to provide maximum comfort and support, making them perfect for all-day wear. Plus, they come in a range of colors and patterns, so there's something to suit everyone's taste. So if you're looking for a brand that offers both comfort and style, Crocs might just be the perfect fit for you.