Clogs shoes have been around for centuries, with roots tracing back to ancient civilizations. This innovative shoe style is characterized by its wooden sole and a leather or suede upper. Today, clogs shoes are popular worldwide, and they come in various styles, colors, and materials. These shoes are not only fashionable, but also incredibly comfortable, as they provide ample support and cushioning for your feet. They're perfect for those long days when you're on your feet, as they offer exceptional durability and traction. Clogs shoes are a classic that will never go out of style. Whether you're running errands or dancing the night away, these shoes are sure to provide you with both style and comfort.
If you're looking for a shoe that offers both comfort and style, look no further than Crocs. This innovative footwear brand is beloved by people all over the world for its signature design and unbeatable value. From classic clogs to stylish sandals, Crocs offers a wide range of options for women, men, and children. And with its commitment to quality and customer satisfaction, it's no wonder that Crocs has become a world leader in casual footwear. Whether you're heading to the beach or just hanging out at home, slip on a pair of Crocs and experience the comfort and style that you've been looking for.
The Classic Clog from Crocs is a beloved shoe worldwide, and for good reason. Not only is it incredibly light and fun to wear, but it's also water-friendly and buoyant, so you can take it from the beach to the boardwalk with ease. The ventilation ports add breathability and help shed water and debris, while making it easy to clean and quick to dry. And with the pivoting heel straps, you can customize the fit to your liking for a more secure step. But that's not all – you can make your Classic Clog truly your own with Jibbitz™ charms. And through it all, you'll be enveloped in the iconic Crocs Comfort™ that is lightweight, flexible, and boasts 360-degree comfort. The Classic Clog is the ultimate shoe for those who want both style and functionality.
The Crocs Baya Tie-Dye Clog is the perfect shoe for those who want a unique twist on a classic design. Not only does it boast the same lightweight and durable build as the signature Classic Clog, but it also features advanced ventilation for breathability and easy water and debris drainage. The tie-dye design adds a touch of individuality and fun to any outfit. But comfort is where the Baya Tie-Dye Clog really shines – it's designed for contoured comfort, so you can wear them all day without any discomfort. Whether you're running errands, lounging around, or exploring new territory, add a twist of style and comfort to your footwear collection with the Baya Tie-Dye Clog.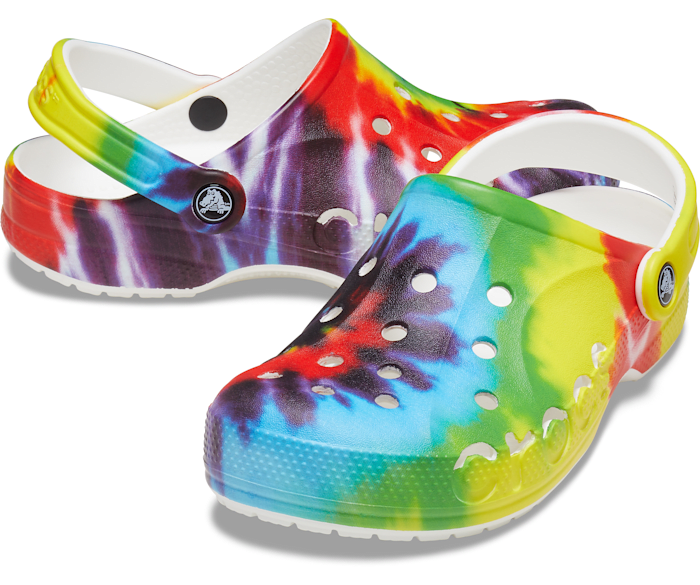 The act of going places and discovering new things. Travels both nearby and far away. The Classic All-Terrain Clog can handle the toughest terrains. The earth beneath your feet has never felt more manageable than it does now that you have a more durable outsole and a customizable turbo strap. They are a convenient and easily transportable option for any adventure thanks to their lightweight CrosliteTM structure. Better yet, the Realtree Edge® camouflage design will give you that extra edge in fashion you've been looking for. The time has come to engage all four wheels. Put the buckle back on and go have some joy!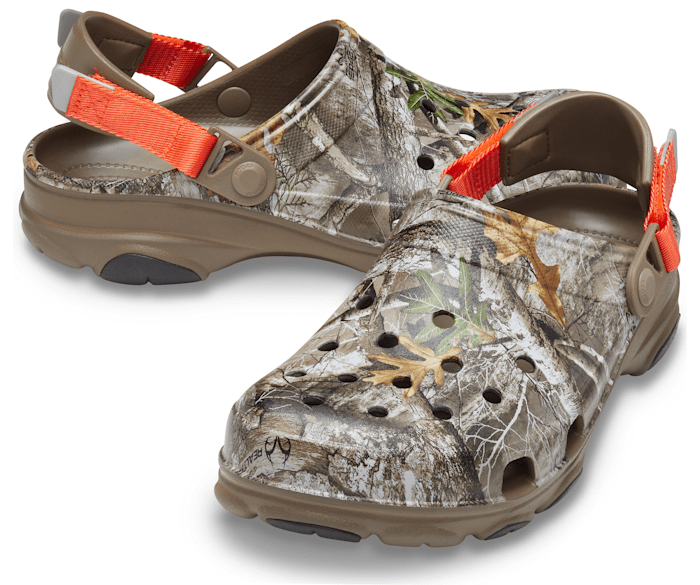 Shoes that kids will actually want to wear They've got a special JoJo Siwa-themed Fun Lab set for your littlest JoJo admirers. Featuring artwork from Nickelodeon star JoJo Siwa, this clog will quickly become your child's favourite sneaker for all their daily activities. Kids will have more fun thanks to the original character-rich visuals and other inspired designs found in Crocs Fun Lab styles, which are perfect for expressing themselves and making new friends.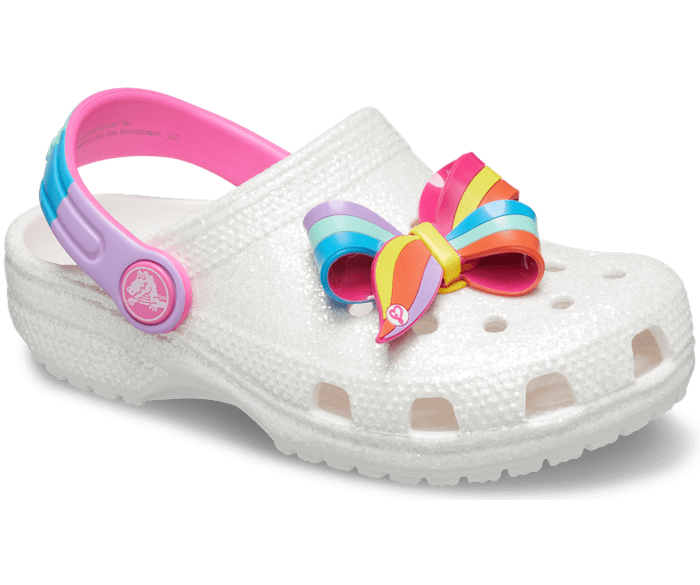 The Classic Translucent Glitter Clog is a fashion-forward Crocs creation that combines cutting-edge transparent uppers with a glitzy glitter embellishment. Not only does it look amazing, but it also delivers the unbeatable comfort you've come to expect from Crocs. What's more, this clog is a prime canvas for showcasing your unique sock-and-Crocs style, as well as adding fun Jibbitz™ charms to give it even more personality. If you're ready to let your feet shine, the Classic Translucent Glitter Clog is the perfect way to do it!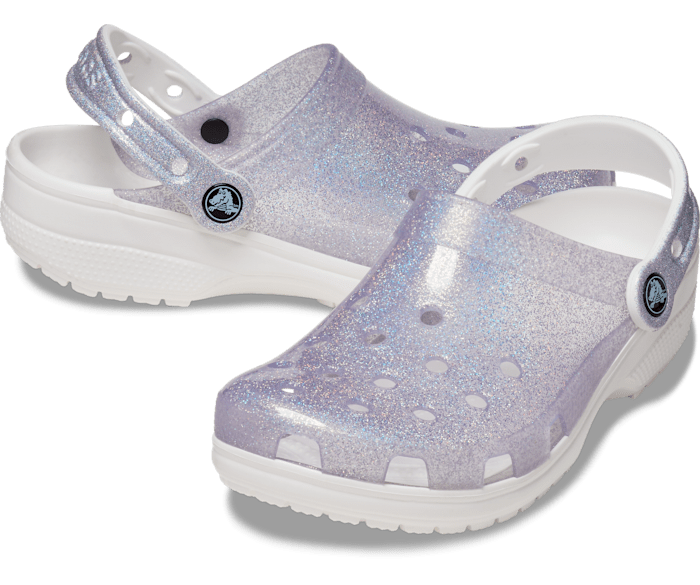 Crocs clogs, originally designed for water use, have been a fashion trend for years. Crocs shoes are a must-have for any self-respecting fashionista thanks to their one-of-a-kind style and extraordinary comfort. Everyone from style icons to regular folks can be seen donning these adaptable footwear items. You can wear them while doing yard work, relaxing in the garden, or just hanging out at home. In addition, Crocs now offers a practically infinite number of styles, hues, and patterns to choose from. If you want a pair of shoes that is both comfortable and fashionable, look no further than Crocs sandals. Put on a set of Crocs clogs today to boost your fashion cred and strut around with panache.